The 24-hour remote surveillance system includes a two-way voice communication console and a personal emergency button. Should a critical situation arise, a direct link is established between the user and the monitoring centre to provide all necessary medical assistance.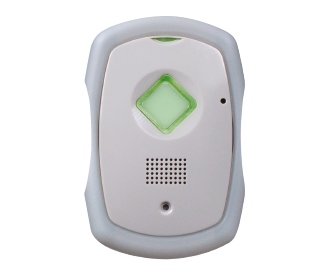 PERSONAL MEDICAL ALERT AND LOCATION DEVICE WITH TWO-WAY COMMUNICATION
Live the independent life you love with the freedom to be anywhere, interact with anyone, and enjoy everything you want. In an emergency, simply press the button on your emergency fall detector to be connected immediately to an operator who can provide help. With the emergency support our fall detection devices provide, you have the peace-of-mind knowing that you are cared for 24/7. Plus, your family and caregivers get the assurance that you have the support you need with an easy-to-use fall detector.
Web Portal
EverThere is a cloud-based caregiver portal that integrates data with the Libris to provide a user-friendly, comprehensive dashboard for those managing the health and safety of Libris users. Data is collected from Libris and transmitted to the caregiver portal. This allows EverThere to display real-time activity data and event notifications from the fall detection device continuously.
The platform gives control for personalized notifications, activity tracking, and real-time and previous location histories.
Product link : numera.com/libris/
RESIDENTIAL MEDICAL ALERT SYSTEM
With its powerful loudspeaker and sensitive microphone, this medical alert system establishes immediate two-way hands-free communication via telephone line between the user and the operator of the 24/7 monitoring center. Just press the help button on a bracelet or pendant worn by the user to contact a qualified operator and quickly receive the help you need.
This medical alert system allows independent seniors to live in their own homes with peace of mind.
Improve your safety by opting for the epicalert device with its fall detector button.
Product link : epicsafety.com